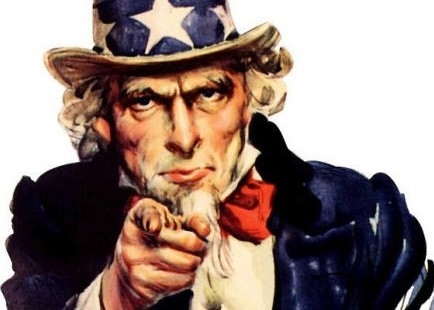 Remember Sebastien De La Cruz? He's that 11 year old Mexican American singer who performed the National Anthem to open game 3 of the NBA final in a traditional mariachi outfit. Here's his picture.
Cute kid, right? Also a great talent. But, apparently a brown kid in a Mariachi suit isn't very cute to some of us, particularly if that kid happens to be singing the National Anthem on network TV.
Rather than celebrate the whole "nation of immigrants" thing and acknowledge that all of us are wearing some sort of national costume from another country, usually Europe, racists reacted, causing a minor sh*t storm on twitter. The crux of the controversy is summed up by this tweet –
To the NBA's credit, they responded by inviting Sebastien to do an encore performance. ¡Muy bien, al NBA!
But, just when I started feeling a little more hopeful about our sports culture, the Yoenis Cespedes controversy popped up online. Cespedes was interviewed in Spanish by ESPN's Pedro Gomez after he won the Home Run Derby. Speaking to him in Spanish with translation seemed perfectly appropriate since Cespedes is a Spanish speaker as are many consumers of Major League Baseball. But, predictably, all hell broke loose. Here's a G-Rated example of the kind of vitriol that erupted online.
New Home Run Derby rule: You must speak the English language.
Actually, Weston, that's not a Home Run Derby rule. However, if the immigration reform bill being debated in our Congress is any indication, it looks like it might soon be a condition of American citizenship, that is if you start out by being born in another country. So, perhaps you should relax. For now, at least, it looks like the racist English Only movement might be winning.
But the incident that truly took the cake for me was last week's backlash against Marc Anthony singing God Bless America at the Major League Baseball All-Star game. It provoked a "not again" reaction on twitter that got pretty ugly. It went something like this…
Folks, even if Marc Anthony was "Mexican" as many assume, can I just ask why we would object to him asking God to bless America?
But, the thing is, Marc Anthony is an American citizen born in East Harlem, New York. Marc Anthony's parents were born in Puerto Rico, not Mexico. Puerto Rico is part of the U.S. When they left there for New York, they didn't even immigrate. What they did is called moving. I'm guessing most of us are familiar with this concept, right?
And, as long as we're on this tip, Sebastien De La Cruz is also an American citizen. He's no more Mexican than the president of the U.S. is African, though I realize that second fact is lost on many of us.
Yoenis Cespedes defected from Cuba. You remember Cuba? It's the island nation from which the parents of such conservative stalwarts as Ted Cruz and Marco Rubio hail. And, I thought conservatives liked it when talented individuals leave Cuba for the U.S. to become cash machines for American baseball and American music labels like RCA Victor and Epic/Columbia (both of which recorded Cuban-born American pop star, Gloria Estefan). These immigrant success stories generate jobs for thousands of Americans.
Sigh. Just when I was getting hopeful about demographic change, I'm reminded how deeply intertwined race and nationality are in this country.
Rising white anxiety over racial demographic change has brought a conflict that has always been central to U.S. politics and cultural life into the media spotlight again. In law and in fact, we are still unresolved on the question of the citizenship rights of people of color in America. This fight over control of who gets to be American, and what American even means, continues to revolve around race.
This fact of American life is evidenced by the continuing fight over the voting rights, safety, security, and legal representation, both in our courts and in our Congress, of people of color, especially African Americans and Latinos. It is also evident in the continuing accusations of foreign citizenship against our president. And now the relative anonymity of mediums like twitter have created forums for attacks against ordinary American citizens like Marc Anthony and 11 year old Sebastien De La Cruz by those who apparently consider it some kind of crime to "pretend" to be a patriot when your skin color marks you as foreign.