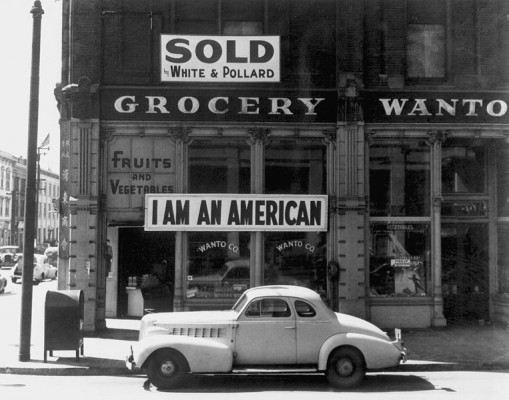 A recent post on this site, Why Are White People So Touchy about Being Called Racist?, touched off a debate that basically served to support my general thesis that white people are, in fact, pretty damn touchy about being accused of racism. Among the responses was this one: "come on Nakagawa, you know Japanese people are just as touchy."
I'm not going to say that this is not a potentially true point. However, I never said Japanese people or any other people aren't touchy about being called racist. I just said white people are touchy, a point that the cognitive leap it took to throw Japanese people at me actually punctuates quite nicely.
And there were those who listed off atrocious examples of intolerance of Asian countries, basically making a two-wrongs-make-whites-right argument. That one gets thrown at me all the time, especially references to the horrible behavior of the Japanese in the Pacific War. Rarely am I asked to consider the atrocities committed by the English against the Indians, or of the Spanish against the Mayans, or even of the Hutu against the Tutsi of Rwanda. Nope. Just Asian atrocities like my phenotype dictates that I must relate to nations entirely foreign to me.
For instance, I don't speak Japanese and have never been to Japan. Neither are my parents from Japan, though they identify very strongly as Japanese American. My racial story, however, is more complicated. I dealt with those complications by identifying as "local," which in Hawai'i means a locally born person of color, rather than by the ethnicity of my mother. In other words, rather than assuming a specifically racial identity, I grew up in an identity rooted in how I was positioned politically and geographically.
But, I get that lots of people think of Asian Americans as perpetual foreigners, somehow attached to countries we have often never visited and owe nothing to in the way of loyalty. It's the kind of thinking that led to the mass incarceration of over two-hundred thousand innocent Japanese Americans during WWII, not to mention to the Islamophobia being directed against South Asians in the U.S. today.
But, there's more. Japanese fascism and hyper-nationalism aren't the same as American white supremacy. I'm not saying Japan wasn't or isn't just as brutal or immoral. I'm saying the brutality of the Japanese was/is supported by a different ideology and set of institutions. Mixing up Japanese hyper-nationalism (or Hutu ethnic hatred or Spanish colonialism for that matter) and American racism mashes wrongs together in a way that makes it next to impossible to address their divergent political, economic, and social bases, and their different legacies of suffering and inequality. We don't need criticism for the sake of criticizing. What's required is criticism for the sake of finding solutions.
In this country, my country, Asian Americans have been given certain racial privileges conditioned on our playing along with the model minority myth. The pay off to racists for conferring this privilege is that they get to cite the myth, which says that Asians rose to success without benefit of government assistance, as evidence that there are black and brown "problem minorities" who deserve their poverty and political disadvantages, a point I've made through this blog before.
That's why I focus on American racism. I suffer and benefit from the racist history of this country, and it is in this country that I can do something to make a difference. It is here that I have a debt to repay to those who suffer for my benefit, and here that I have a compelling personal interest in ending racism because my American nationality means I have a stake in American democracy.
But, the most frequent defensive response by white people is one we all know. It's the idea that everybody is equally racist and equally to blame for racism. But that's just not true.
Even racist name calling is affected by history and current day inequalities. Terms like "chink," "gook," "nip," and the n-word are meant to humiliate people by reminding them of their status as inferiors in a white dominated racial hierarchy. On the other hand, "cracker" refers to the sound of the whip of white bosses. "Honky" comes from a time when white men drove into the red light districts of black neighborhoods to solicit prostitutes by honking their horns. These words are expressions of resentment toward the extraordinary power whites once had over people of color.
Anyway, I refuse to accept that middle class white people who've inherited wealth their families accumulated with the help of racially exclusive government programs like the GI Bill deserve that privilege if it means accepting that people of color who inherit the poverty of parents who were excluded from those programs deserve to be impoverished. But that's what this suggestion that everyone is equally to blame for racism suggests. All racial intolerance may be wrong, but they don't all result in the same degree of damage.
And that brings me to why I wrote about white people's touchiness about racism in the first place. The reason I singled out white people is not because I believe they're alone in their touchiness or that being touchy makes them more morally deficient than anyone else. I wrote about it because white people's touchiness is a political problem. It blocks the kind of dialogue that is necessary to address structural racial inequity.
Of course, to buy that, you have to accept that racial inequity still exists. If you do, the first step toward being part of the solution is to let go of all that touchiness. If you don't believe that or don't care, you're reading the wrong blog.