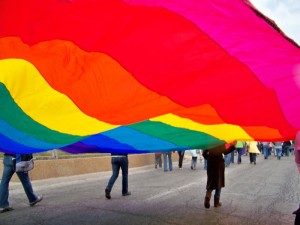 Anti-democratic and authoritarian movements aren't just about bigotry, but they most definitely drive down avenues of race and gender. This election showed us that with absolute sparkling clarity.
It's time for all of us to realize that addressing sexism and racism is a we thing, not a me for you thing. And when it comes to that, LGBTQ people, especially LGBTQ people of color, have something to teach us.
Here are five of those lessons:
Number One: Visibility matters. Come out!
By answering the call to come out of the closet, LGBTQ people exploded homophobic norms. We staged a living mass demonstration of the fact that we are everywhere and from every walk of life. Each of us who could come out made ourselves an example of courage and possibility to those less privileged.
We need to come out. We need to show the public that those of us who simply won't tolerate misogyny and bigotry are everywhere and everyone from every walk of life. Do it with dignity and do it with love and those who are feeling isolated and afraid will be empowered by your example.
Number Two: Normal is not our friend.
Political norms are falling like leaves. That's scary, but it's also an opportunity. We have a chance to create a new normal.
In this election, the "normal" we may have suffered from most is sexism.
The overwhelming majority of working class white women voted for Trump. Anecdotally, it appears that many weren't discouraged (much) by Trump's obvious misogyny because they believed he is "just the way men are." Men need to come out and make the case that this is not just the way men are by making this statement obviously false. That means speaking out and making it clear that we're offended by violent behavior and threatening speech.
Sexism isn't only a problem of words and behavior. Patriarchy is an anti-democratic relationship of unjust power enforced by violence, both in public and in private. Structural gender inequality, as reflected in the gender wage gap, is a failure of democracy.
Failures of democracy contribute to wealth and income inequality and the economic insecurity of communities. The extraordinary wealth and income inequality and economic insecurity affecting the bottom 90 percent of people in the U.S. today contributed greatly to the rage driven politics that we witnessed in this election.
The first step in defending democracy and women's security is for those of us on the upside of this unjust power relationship, for men, to come out in opposition to sexism.
Number Three: Cultural change prefigures political change.
LGBTQ people understand that political transformation follows cultural transformation. Culture is how we make meaning in the context of community, and meaning is everything when it comes to politics.
Coming out is a cultural act. But LGBTQ people didn't stop at coming out. From the inspiring artistic creativity of ACT-UP, to the many other ways in which we engaged and disrupted popular culture, LGBTQ people addressed the public imagination and transformed it in inspiring, powerful and compelling ways. We didn't just talk the talk, or walk the walk, we also danced, painted, designed, wrote, and filmed the consequences of anti-queer hatred, while also humanizing LGBTQ people.
Number Four: In order to change the hearts and minds of those opposed to you, they have to have room to pivot.
In this election, more than 60 percent of Trump voters didn't expect him to win. That incredibly large number of people who voted for the candidate they believed would lose speaks to the possibility of a very large number of protest votes having gone to Trump. If that assessment is correct, buyer's remorse is likely to set in before long. We may have a chance to further erode the public impression that Trump has a mandate to rule.
This is not going to be for everyone, and I'm just going to come out and say that folks most demographically proximate to Trump's supporters are going to need to lead the way in this. But they can't lead alone.
Those who think that making room for remorseful Trump voters to pivot is too big an ask can learn something from LGBTQ people. As a gay person, I've had to do a version of this so often I don't even think about it anymore. I just do it because my survival depends on it.
If you're straight and white and male, you might want to consider the efforts that LGBTQ people of color have made to expanding democratic rights and at what expense. LGBTQ people are extraordinarily over-represented among homeless youth and among youth suicides because the hostile climate we live in often pervades even our families. Imagine your family thinking of you as dirty, shameful, and perverted. Imagine a situation in which, as a child, all of your childhood friends were potential assailants who might turn on you like an angry mob if they knew who you really were.
In order to create safety, security, and acceptance, we've had no choice but to provide the space for those people to pivot. We've had to dig into the deepest depths of our guts to muster a smile and conjure the hope, the optimism, the belief that things can get better if we accept that "better" must start with us.
They don't call us "gay" for nothing. We've had to smile through the worst kind of marginalization, open hatred, and humiliation. You want to know what's tough, embarrassing, diminishing? Telling people, "you can still believe I'm a pervert and vote against anti-LGBTQ laws that threaten your civil liberties."
Consider those even more vulnerable than yourself. Their future depends on us being willing to swallow the bile as it rises and make room for the people who bashed us yesterday to join "our" side today.
Number Five: Attitudes do change. But changing attitudes is not enough. For all of the change that the LGBTQ movement has made in the world, we still have a Vice President who is overtly, and on the basis of absolutely uncompromising principle, just about the most homophobic public official in the country.
Until we have real equity, we are always vulnerable. And real equity? That's not something you do for me, but something we do for us.