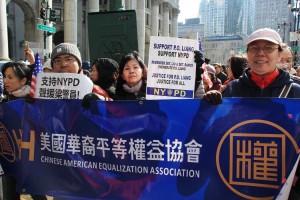 The Peter Liang conviction was a reminder of the space between my father and me. Usually the space hangs there, pregnant but unperturbed. Every now and then, however, something like Liang's conviction forces us to actively confront this truth: that he, a first-generation Chinese immigrant who embraced the "American Dream," and I, his queer Chinese-American daughter, are very different. It seems obvious, but we rarely speak of it, because I'm expected to not be different.
In the weeks following Liang's conviction, I've composed many unsent letters to my father. The first ones, composed after he called to proudly tell me that he supported Justice4Liang, were of anger. I felt angry that my dad didn't understand his own anti-Blackness. I wanted to shake him by the shoulders and scream, "can't you see?!" but instead I sent him a dozen think pieces to read, the more scathing the better.
The next letters spoke of self-disappointment. My dad's support of Peter Liang clearly pointed to failure on my part. I had failed to have any effective conversations about structural racism with him. Honestly, I had rarely even tried.
After disappointment, it got personal. Of course my dad will show up for a Chinese man who looks like himself, but not for a single Black Lives Matter action — that's because he fundamentally refuses to operate outside of his own frameworks. This is what I tell myself when I think about how he refuses to accept my queerness, or to see the pain that comes with that refusal. The truth is, I don't feel hopeful that my dad will ever fight for my queerness the way he fought for Liang, much less fight for Black families, with whom he feels he shares nothing in common.
This is when I realize that I have been yearning to talk to my father about the Liang protests and Black Lives Matter, yes, but along the way I want, and need, to talk to him about so much more. I want to talk to him about the pains of diaspora, fatherhood, and daughterhood. I want to explore with him how these experiences relate to life in the U.S. and the fact that it's founded on anti-Blackness. I want to co-imagine how we can be better allies towards others and towards each other.
Intergenerational communication about race, power, and privilege within the Chinese American community won't happen through the critical think pieces I tried throwing at my dad. It might not even happen through explainers written specifically for a Chinese audience. At least, not through explainers alone. For my dad and me, I think understanding will come only after we listen to each other's stories and recognize each other's pains. So here's the letter I'd like to send my dad in the wake of Liang's conviction —
Dear Dad,
You don't like to tell stories about yourself, but here is what I know. You grew up in a rural village in Hubei, China during Mao's Cultural Revolution. You lived in a cement hut with your parents and four sisters. As a family you didn't have money or material comforts, but you had pride. From a young age, you felt you would be the one to change your family's circumstances. By day you harvested crops with everyone, and by candlelit night you retreated into a world of books no one else could enter. Once, grandma caught you reading instead of picking cotton, and she flung your book straight into the pond outside your home. By 1986, you had graduated from college, and Mao's successor, Deng Xiaoping, was sending the country's top students abroad. On a full scholarship from the Chinese government, you headed to Caltech to study economics.
The ten years between 1986 and 1996, when you and mom put down your first payment for a two-story, four-bedroom house in suburban New Jersey, remain a mythical black box to me. As a kid I took it for granted, assuming that anybody who put in enough hard work and sacrifice — two values you instilled in me since babyhood — could achieve what you did. When I grew older, and learned how hard it was to make money, the climb you made seemed nothing short of magic. I'd ask my mom about it, and she'd repeat the same explanation: You worked hard, saved money, and felt entitled to nothing but what you had earned.
From 1988 to 1993, you lived in West Philly, where I was born. In our conversations about Peter Liang, you often refer to this time to dismiss my criticisms of broken windows policing. You tell me that Black neighbors used a baseball bat to kill your schoolmate, a grad student from Hong Kong, in a park near our home. Mom tells me her friend was beaten bloody on his walk home from visiting me after I was born. "We were robbed three times in one year," she says. "We felt safer when we saw police patrols."
In these moments, when I feel ready to hurl out angry accusations of complicity and anti-Black racism, I try to think about the loneliness you and mom might have felt as new immigrants in a country that viewed you only in caricature. I think about how you left behind a family that idolized you, to live among strangers who dismissed you as subservient, alien, and irrelevant. I think about how you might have felt as young parents, waking up in the middle of the night to robbers breaking into your apartment with a newborn sound asleep.
I imagine, dad, that you must have felt like the dangers of West Philly had nothing to do with you. You moved to the U.S. because you heard you could provide better opportunities for your children. You didn't ask to inherit its history of racial violence. This country didn't even feel like yours. Growing up in a country where everyone had the same color skin did not give you the terms to speak or think about racism. All you wanted was to be left alone to do your thing — and you'd leave others alone to do theirs.
The problem is, it's impossible to live in the U.S. and not participate. You and I are assigned a place on a racial order that was birthed out of white colonialism and solidified over centuries of violence and discrimination against Black people. To not acknowledge or challenge the hierarchy is to enable it. There's no such thing as neutral.
I can see why acknowledging the racial hierarchy might be hugely inconvenient. It means recognizing that poor Black people are more likely to experience state violence, mortgage discrimination, incarceration, residential segregation, and lower access to educational resources than poor Asians. It means conceding that your success story, built on "work hard, save money," might not have happened the same way had you been a Black immigrant instead of a Chinese one. It means admitting that, just by doing nothing and maintaining the status quo, you are perpetuating oppression.
The truth is our convenience is not worth the hundreds of Black lives — like Akai Gurley's — lost to this hierarchy each year.
You always taught me to avoid owing anyone anything. It's just easier, you'd say. Keep your pain to yourself, and you don't have to be responsible for anyone else's pain. In a country that doesn't care about you, better to keep your head down and take care of your own.
But that arithmetic doesn't work here. Because of the racial hierarchy, some minorities experience more pain than we do as Asians. We profit off the pain of other marginalized groups, including Native, Latinx, Muslim-appearing, and Black people. And so we need to support their fights against oppression. Aside from the fact that it's the right thing to do, we help ourselves when we fight alongside other minorities. We've already benefited in major ways from their fights — as a result of the Civil Rights Movement, Asian Americans gained rights to vote, marry interracially, and immigrate to the U.S. after 1965.
I know there's heartbreak in immigration. You, mom and dad, came to the U.S. to build a life for your kids. We, your kids, grew up internalizing messages that your accents are laughable, that you're square for working hard, that our heritage is something to be ashamed of. As a kid your daughter was disappointed in you for not knowing how to make cupcakes for the bake sale. As an adult, she's disappointed in you for supporting Peter Liang. She writes about it on the internet, using terms she learned at the Ivy League school you paid for.
When I think about the weight of your sacrifices, I feel deeply undeserving. Most days, I feel a lump of betrayal in my throat for being so different from you. I hope you know I'm never saying these things to judge you — how could I?
I'm saying these things because I know you have a deep sense of compassion and a strong sense of justice. I'm saying these things because mainstream media never directly addresses you, or your experiences. I'm saying these things to invite you to fight — for you, me, your grandkids, and all the other kids in this country who are unfairly punished for the color of their skin. I'm saying these things because I love you, but there's a space between us. I want to bridge that space, but first let me acknowledge your hurt.
Your daughter,
Lucy