On November 9, 2015, a tent encampment set up on the University of Missouri Columbia's campus quad erupted in celebration. President Tim Wolfe, who student protesters charged with failing to address campus racism, had announced his resignation.
Amidst cheers, tears, and a mass rendition of "We Shall Overcome," a new controversy emerged. A six-minute viral video clip showed a student reporter named Tim Tai, who is Asian American, being physically blocked by a group of protesters demanding the media stay out of the encampment.
"I don't have to move back. I have a job to do," the video shows an exasperated Tai saying as students demand he step back. In the background, protesters chant "Hey hey, ho ho, reporters have got to go!"
"It's the First Amendment that protects your right to stand here, and it protects mine," he explains.
"We need to protect our space," interjects another protester, a Black woman in a beanie with a fist raised in protest emblazoned on her t-shirt.
"There's not a law around that," Tai says, befuddled.
"Forget a law," the protester replies. "How about humanity? Or respect?"
***
It's hard not to ascribe a certain symbolism to this exchange: an Asian American student journalist asserting his right to enter and record events in a space of protest created by and for his Black peers to be free from the prying eyes of media. Is Tai, appealing to law and order in the face of Black struggle, a stand-in for Asian American students nationwide? Do Asian American students, as Kevin Cheng wondered in a recent Atlantic article, really "contribute to the problems facing Black students"?
Just as Ferguson called into question the place of Asian Americans in U.S. race relations, the new wave of Black-led student protests at Mizzou, Yale, and beyond has left some wondering where Asian American students fit into the picture. This is nothing new. For decades, Asian Americans have pondered their role in movements facing racism in the U.S. that necessarily hinge on that cornerstone of white supremacy, antiblackness. From "Yellow Peril supports Black Power" to APIs4BlackLives, Asian American radicalism has long defined itself as much through its support for Black liberation as through its own struggle against anti-Asian racism, imperialism, and xenophobia.
But outside of leftist articulations of mutual liberation and Third World solidarity, Asian America has struggled alongside the U.S. mainstream to make sense of the place of "yellow" and "brown" amidst Black and white. We're burdened by questions: are Asian Americans people of color? Is "Asian privilege" a thing? Do Asian American voices count in conversations about racism? And is anyone bearing witness to our struggle? At times, these questions can breed a resentment of "Black and white" understandings of race that can swiftly take the shape of antiblack conversation derailers ("Hey, don't Asian Lives Matter too?!").
In the context of higher education, where conservative rhetoric often places Asian Americans in opposition to policies like affirmative action (despite consistent polls indicating otherwise), the status of Asian Americans is even more ambiguous. As campus protests for racial justice have spread, assumptions of Asian American political disengagement—or even complicity with racist institutions—have been pervasive. Cheng's Atlantic article put bluntly to words what many educators, students, and commentators, both Asian and non-Asian, have wondered: "Where are all the Asians in the campus racial-justice protests?"
From Cheng's critique of perceived Asian American student apathy to a widely distributed call on Columbia University's Asian American student body to address antiblackness, the prevailing sentiment seems to be that in this moment of student racial justice organizing, Asian American students are either unsure of their place, or standing on the wrong side of the color line.
No doubt, calls for Asian Americans to reject the model minority myth and address antiblackness within our communities are necessary and urgent. Asian American silence is pervasive, and unacceptable, in the face of racial injustice. Yet, some of these conversations seem to take Asian American political apathy as a guiding assumption rather than a concluding thesis. The model minority myth is even more dangerous when it becomes such a self-fulfilling prophecy: how can students envision an Asian American student movement when they're constantly told it doesn't, or can't, exist?
The reality is that an Asian American student movement is brewing, whether we bear witness or not. And Asian American student leaders are grappling with the same questions as their communities at large: striving to act in solidarity with Black peers' movements while seeking spaces to voice their own experiences with racism and invisibilization; challenging the model minority myth while butting up against the realities of a sometimes disengaged student community; and simultaneously understanding that solidarity can require stepping out of the spotlight while wondering if their voices are being left out of conversations about racial justice in their schools.
I had the privilege to speak with student organizers at Brandeis University, Hunter College, Northwestern University, University of Minnesota, and Yale University about some of these questions. And one thing is clear: rather than choosing inaction in the face of such complexity, students are navigating these questions through decisive action. In the process, they're embedding an antiracist politics of Asian American inclusion and solidarity deep in the fight for racial justice in higher education.
***
At the center of the organizing concerns of Black students and other students of color is a lacking sense of safety, support, and belonging on their campuses. For many students of color, building names that honor racist historical figures, racialized slights from peers and faculty, and a lack of Black and brown faces at the front of the classroom—and behind the desks of top administrators—create a clear message: these spaces were never meant for them.
Even as Asian American student populations tend to eclipse those of their Black, Latino, and Native American peers, feelings of isolation abound. "Coming here to this white, upper middle class community was different for me," explained Jeanne Hou, a senior at Northwestern University, which reports an Asian student body of 16 percent, and co-president of the Asian Pacific American Coalition (APAC). "I grew up in the Chinatown area, and so I joined APAC so I could explore that identity because I never had to before."
Hou's fellow co-president, Theanne Liu, similarly sought out Asian American-specific student spaces after feeling removed from her non-Asian peers. "[I was] singled out during this Lunar New Year dinner the residential college board hosted in Chinatown," Liu recounted. "I was the only Asian person who got to go. It was really weird and I never felt so uncomfortable before. So that's how I joined APAC," a community which Liu described as a safe space for Asian Americans to unpack such experiences and learn about social justice engagement.
At Brandeis University, the informal motto "Brandeis is our house" reflects a presumed sense of community and belonging. But junior and Brandeis Asian American Task Force (BAATF) founder Hin Hon (Jamie) Wong feels that sense of belonging might be reserved for certain students. "I don't think that Asian American students here really, truly feel that," she said. "It's part of the greater perception of us as an other…so we just accept that we're here to get a degree and then leave." Brandeis has a 12 percent Asian/Asian American population, but for Wong, it's not the numbers that matter. "[Asian] students are still saying that they're not the face of the school and not a part of the school even if they've reached a numerical majority," Wong said, referencing conversations she has had with peers at other institutions. "We need to claim that belonging and claim that place in schools because numbers aren't going to do it."
At University of Minnesota, the sudden dismissal of Juavah Lee, an assistant director at the school's Multicultural Center for Academic Excellence and an important supporter of Asian American clubs on campus, sparked a student backlash. "We felt like with him being gone, there was no longer anyone else in the administration that was looking to advocate for us," explained Ken Gonzales, a senior and co-founder of the group APIs for Diversity and Equity. Formed in the wake of Lee's dismissal, the group has demanded that the University's Office of Equity & Diversity acknowledge and rectify "the exclusion of Hmong, Southeast Asian, and Asian American communities in conversations centered around race, equity, and diversity" by increasing services such as scholarship opportunities, living learning communities for Hmong and other Asian American students, and consulting Asian American students in the hiring of future Multicultural Center staff.
Lee's dismissal pushed University of Minnesota's Asian American students to examine their place on campus beyond the realm of student affairs alone. "One of the biggest things we recognized here on campus is we have four Ethnic studies programs and Asian American studies is the only one that doesn't have its own major department," Gonzales said. "With Juavah [Lee] being let go, we started to really find gaps in representation of AAPI faculty and staff members outside of the STEM field."
Demands for the establishment and/or expansion of Asian American studies programs have become a rallying cry for Asian American student activists across the country. For those slighted by microaggressions from peers and professors and at times alienated from multicultural centers, to see Asian American experiences institutionalized as a field of study is viewed as an opportunity for visibility and empowerment.
"It's the first time they're going to see themselves in a history book or in a course," said Tony Tran, vice president of Brandeis's Asian American Students Association (BAASA) and BAATF member. "Growing up in high school, history books pretty much had one paragraph that would be about the Transcontinental Railroad and Chinese Americans, but that would be it."
Gonzales stressed the impacts of such exclusion, asking: "How can you begin to understand how the Asian American identity even began without the history being there?"
At Yale University, where 20 percent  of non-international students are of Asian descent, the Yale Asian American Studies Task Force (YAASTF) reports that less than two of the school's roughly 2000 undergraduate courses offered this past fall were within the field of Asian American studies. In response, the Task Force released a series of photos of Asian American students armed with signs that read "YALE WILL NOT TEACH ME…" Prompted to fill in the blank ("Asian-Black Historical Solidarity," "South Asians in the U.S.," "Asian American feminist politics"), their answers starkly visualize the exclusion of Asian American perspectives from Yale's curriculum.
***
U.S. media encourages an understanding of Asian American interests as separate from, if not in outright conflict with, those of other communities of color. Case in point: commentators claimed that Asian American shopkeepers were bearing the brunt of property damage during protests in Ferguson and Baltimore. White conservatives have conspicuously plastered Asian Americans faces across materials of the anti-affirmative action movement. Conservative news site The Daily Caller even claimed that the Tim Tai incident proved that the University of Missouri is racist against Asians, not Black students. But Asian American student activists largely evade the trap of zero-sum racial politics, seeing their movements as complementary to those of Black students and other students of color.
At Northwestern, Hou and Liu say APAC rallied alongside other students of color to oppose proposed changes to the Black House and the Multicultural Center, two of the few campus spaces predominantly used by students of color. With other members of the university's Coalition of Color, an informal network of Black, Asian American, Latino, and Native American and Indigenous student groups, the joint effort was ultimately successful in pressuring the administration to halt the changes. Student organizers also aligned over a related set of demands calling for greater investment in the Black House and an increase in Black faculty and Black and Native American students. Put forth by a contingent called Black Lives Matter NU, the demands also included APAC's call for an Asian American Studies major.
At Brandeis, a similar culture of solidarity has emerged, albeit after deliberate conversations and occasional conflict over the inclusivity of student demands. Propelled by a thirteen-day occupation of Brandeis's Ford Hall, a student contingent put forth its own list of demands centered around the concerns of Black students.
Incidentally, the demands were released the same day BAATF planned to put out its own call for an Asian American studies program. But rather than shifting focus from the Ford Hall sit-in, the group decided to delay the release of its demands, instead coming out as an organization and putting out a letter of solidarity with the Ford Hall occupation. Co-signed by BAASA, the statement urged Asian American students to "shift perspective" from an initial reaction "to feel left out or dismissed as Brandeis students of color," instead calling on students to "unite, instead of divide, when confronting larger entities of power."
That language reflects the fact that the Ford Hall demands focused specifically on an increase in Black faculty and students. "When the demands came out, our reflex reaction was to ask how is this 'students of color' when you're not addressing Asian American voices," Wong explained. But through conversations with Ford Hall occupiers and the Brandeis Black Student Organization (BBSO), feelings of exclusion gave way to an understanding of mutual liberation.
"[BBSO] focused on the matter that when you lift the most marginalized community up, everyone improves," said Tran. "So at Brandeis I definitely agree that the Black community is the most marginalized, so when we improve resources, faculty, and support for them, you improve everyone's experience at Brandeis. That's something that some [Asian American] students at Brandeis didn't get at first, but after we went back to them and shared this perspective…a lot of students started to understand."
This careful shift in perspective proved to be mutually beneficial. After BAATF and BAASA members joined the Ford Hall sit-ins, talking with organizers and sharing concerns, the two movements became closely aligned. When BAATF organized it's Day of Action Rally in December, all of the original organizers of Ford Hall 2015 showed up.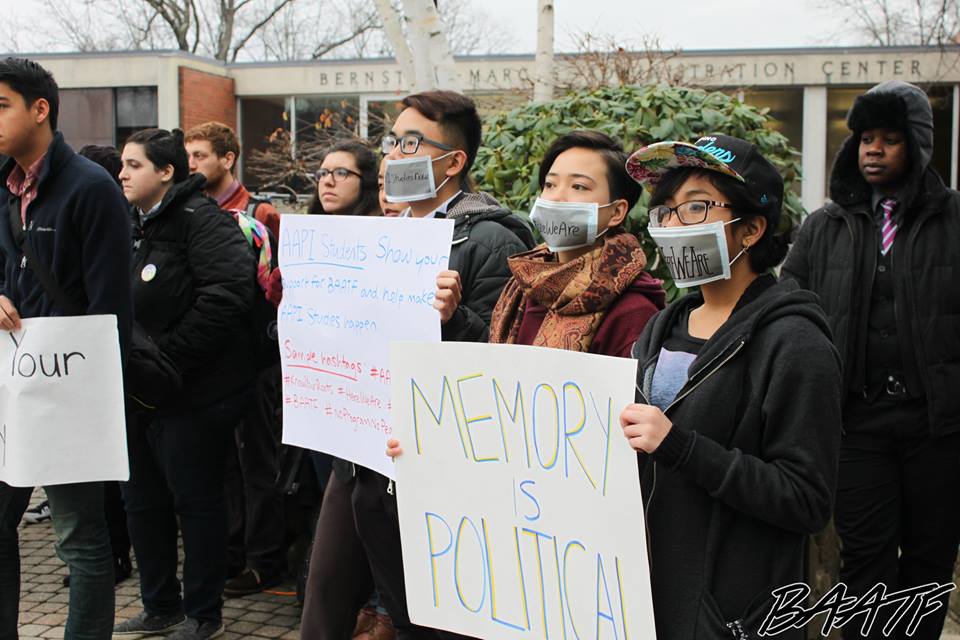 Protestors at Brandeis Asian American Task Force's Day of Action Rally, December 8, 2015.
"It was really meaningful that they helped support us so much," said Tran. "They see that what we're doing is a direct way Brandeis can commit to diversity in faculty and administration."
***
There is an aspect to Asian American student activism akin to a balancing act: students expressed the challenge of representing the needs and concerns of their own communities while showing up in solidarity with other students of color. In thicontext, many shared an analysis of antiblackness and the variant positionings and lived experiences within the "POC" student community.
"We are in a situation of privilege but also not," explained Tran. "Some students feel like they don't need to be compelled to step forward because things like police brutality might not impact them…. Usually it's Black students coming out first as social justice organizers and we also need to do our part."
Hunter College senior and organizer of the Committee to Revitalize Asian American Studies at Hunter College (CRAASH) Kevin Park shared similar thoughts, referencing a marked drop in admissions rates for Black and Latino students in The City University of New York system amidst a rise in Asian/Asian American enrollment. "I think it becomes more imperative for Asian American student organizers to work with Black and Latino student groups to change the narrative around these issues so that the administration and the media cannot use Asian students as a wedge to push out other students of color," Park said.
Liu said she feels that Asian American students have a unique responsibility to address antiblackness in their own communities, saying that APAC had hosted several discussions on the topic in recent months. "I think it's so important because we have super popular Asian Americans on YouTube putting out these videos reaching their 15 million subscribers about how 'ridiculous' the Black Lives Matter movement," Liu said, referencing a recent video critiquing the movement posted by popular YouTube celebrity Ryan Higa. "A lot of messages like these are targeting younger Asian Americans. I think it's important that when they get to college we can try to unpack what they've seen."
A sign made at NU's Asian American Studies Program for a campus protest last fall.
But Liu was careful to stress the difference between having internal conversations about antiblackness within the Asian American student body and taking up space in more public arenas. Recounting a meeting she attended of the Black Lives Matter NU group this past semester, Liu said: "There were a lot of white students and non-black people of color asking how they can be involved with leading [the movement]. And of course they have good intentions but at the same time it holds this message saying like 'Oh, I can do the work better than you can on your own issues.'" Around the issue of the Black House, Liu said APAC has "taken more of a step back just to show up and show solidarity. [If] that's all they want us to do and that's enough for them, then that's our role in this," said Liu. "I think that an important part of solidarity work is knowing when to shut up."
At Brandeis, Wong says that moving past the feeling that Asian American voices were excluded from the Ford Hall occupiers' demands was an important lesson on how to build solidarity. "I know that a huge question that a lot of Asian American student organizers have is how do we address our desire to be included in these conversations without coming off as, you know, 'What about us?'" She added: "There's always going to be this concern even amongst communities of color that other communities don't recognize Asian Americans as people of color." But by engaging in conversation with Ford Hall occupiers about the concerns of Asian American inclusion, Wong said BAATF found that "they completely understood where we were coming from. And that really helped build a relationship where they saw us as allies in their movement and saw themselves as allies in ours."
Asked about the broad demands put forth by a coalition of students of color at Northwestern, Liu explained: "We do all see that all of our liberation is tied together."
***
While student activists are countering stereotypes of Asian American political apathy through their work, they did voice frustrations with peers who are often too busy or uninterested in joining their movements.
"Unfortunately the whole issue of Asian Americans being seen as apathetic or apolitical, I don't want to say that it's true, but we personally do see it sometimes in our community and it's a little bit frustrating," said Liu.
CRAASH organizer Evelyn Mau echoed similar frustrations, saying that one of the major challenges the group has faced is finding Asian American students interested in getting more involved. Despite a large Asian American population at Hunter, Mau said the majority seem "more interested in graduating and finding a stable job than participating in student protests." Still, she added that as a commuter school, Hunter students face different obstacles from peers at schools like Brandeis or Yale, positing that students "might worry that if they speak out, they would lose their job or disappoint their parents."
Hou has also been disappointed by peers who feel racial justice organizing "isn't relevant" to them. But she also recognized that events at Mizzou and beyond are shifting things, saying that "more and more Asian American students are beginning to engage in these conversations because at this point it's really unavoidable."
Part of the difficulty in mobilizing more Asian American students has to do with the diversity of that demographic itself. Liu was troubled that APAC ended up with a majority Chinese American leadership this year, adding that the group had little to no South Asian or Pacific Islander presence. She shared that the Multicultural Student Affairs department held a lunch about APIDA [Asian Pacific Islander Desi American] solidarity. "I remember a lot of South Asian students said they were so glad this lunch included the 'Desi' because [they're] so forgotten when we talk about APA or APIA…It's also on us to expand more conversations about that."
At Brandeis, Wong said that the diversity of the community means there's an obligation to think about solidarity within the Asian American demographic itself. "We have very high-income students and students who are low-income. Students who are Southeast Asian coming from different backgrounds from students who are East Asian…. Even getting people on the same page is a challenge that we often times face." Regarding Islamophobia and the recent rise in anti-Muslim hate crimes, Wong said: "I think it is hard because [non-Muslim] Asian American students don't see themselves in relation to Muslim students in the way I think we should and the way we should…. We are asking ourselves how are we in relation to what's happening."
In this context, University of Minnesota's APIs For Diversity and Equity stands out. "The Twin Cities has a very different AAPI makeup, just by having predominantly Southeast Asian students on campus," Gonzales said. Minnesota has the country's greatest density of Hmong Americans, most of whom came to the U.S. as refugees of violence in Southeast Asia during and after the Vietnam War. That unique history has ongoing impacts: many Southeast Asian Americans lag behind Chinese and Indian peers in household income, high school graduation rates, and other indicators of success generally associated with the Asian American community. Thus, the group has called on the University to disaggregate data the university collects regarding Asian-ethnic identities to "further identify the specific needs of Hmong, Southeast Asian, and Asian American students."
The growing population of Asian international students adds yet another layer of diversity to Asian/Asian American student communities. "At Yale, Asian international students tend not to identify as Asian American, which complicates some of the work done by those who do," said YAASTF organizer Alex Zhang. "I don't think that the growth of Asian international student populations is necessarily bad, though. It forces 'domestic' students to find common ground and to consider how their movements fit within international activist efforts."
Liu recounted an event held by Northwestern's Multicultural Student Affairs which focused on the "disconnect and tensions" between Asian American and Asian international students. A member of the school's Chinese International Student Association shared an incident on YikYak, an anonymous messaging board popular on college campuses, in which a student complained about the number of Chinese international students in the library. "An Asian American student commented expressing similar sentiments of annoyance at the international student body," said Liu, who worried that such instances would further alienate international students from their Asian American peers. "A lot of these anti-international sentiments from fellow Asian Americans could be unfortunately attributed to internalized racism," she said.
***
Clearly, there is no panacea for the issues facing Asian Americans in higher education. But there is a reason that the call for Asian American studies is at the center of today's Asian American student movement. Since Asian Americans joined their Black, Chicano, and Native American peers to demand an Ethnic Studies program at San Francisco State University in 1968, the field has been seen as a crucial way to confront the overwhelming whiteness of student and faculty demographics and curricular content in higher education.
For today's Asian American students, such programs mean institutional support to think through the questions of identity, history, and activism with which they are currently left to fend for themselves. "There isn't the kind of support to think about activism and history in the same capacity for Asian American students as there are for other students," noted Gonzales.
Northwestern students staged a hunger strike in April 1995 to demand an Asian American studies program. As a result, an Asian American studies minor was formed in 1999.
Tran said this lack of institutional support perpetuates the invisibilization of Asian American history and activism: "To go against systems of oppression is a hard thing to do as Asian American students who don't have a course or organization to inspire them."
The context provided by Asian American studies programs has spurred student activism at other campuses, said Wong. "Asian American students that we know from other schools were mobilized or educated by their Asian American studies courses, because they were given the background to learn about their history and learn about things like the fact that there are past Asian American activists and movements," she said. "Not everybody is going to major or even minor in Asian American studies, but hopefully they can take an introductory class and it will teach them something about their past or politicize them."
While many administrations have been swift in their attempts to smooth over concerns of student of color protesters, broader institutional shifts have been slower. Gonzales said his group has been faced with a "kind of waiting in line rhetoric that has been really difficult to swallow." But recently, the student government passed legislation supporting the work being done as APIs For Equity and Diversity. "We haven't gained victories in that our demands were met, but we have pushed the administration to really start taking Asian Americans and Pacific Islanders more seriously and the needs of our community here on campus."
At Brandeis, after BAATF's Day of Action Rally, Interim President Lisa Lynch announced the formation of a Faculty-Student Committee on Asian American Pacific Islander Studies at Brandeis, naming BAATF members Tony Tran and Theresa Yeo, among others, as student representatives on the committee. Earlier this month, YAATF shared a Facebook status announcing that three new courses would be offered in the spring in or closely related to Asian American Studies. Meanwhile, Northwestern faculty are reviewing a proposal from professors of the Asian American Studies Program that would expand the program into a major. The proposal is supplemented by APAC's student petition, which gathered over 700 signatures.
Discussing the future of their work, Tran said: "Hopefully more people within the Asian American community understand that Asian American activism does exist, that Asian American students can make differences within campuses."
Wong stressed the importance of highlighting existing student efforts, encouraging students at other campuses to reach out to strategize and build together: "There is a community in that way because a lot of students think that there aren't students doing this and they have to do it on their own."
Ultimately, Asian American student movements depend on a radical shift in perspective, one in which students see themselves not as visitors but as stakeholders and change agents within their institutions.
"The more that people feel like they belong in a space, the more they feel like they should change what's going on if they feel like it's wrong," said BAATF and BAASA leader Theresa Yeo. "That feeling of empowerment: if there's a problem you can do something about it. You don't just have to sit with it. That's something I've learned in this past semester. I definitely think that's something that comes with a sense of belonging, a sense of saying 'This is my space. This is my house. I can do something here.'"
Indeed, Asian American students can, and are, doing something.
*****
Mark Tseng Putterman is a writer, independent scholar, musician, and organizer based in New York City, and a Media Justice Campaigner at 18 Million Rising. He is a former Junior Research Scholar at the Asian/Pacific/American Institute at NYU, where he continues to serve as a co-advisor to the A/P/A BRIDGE student leadership program. He is passionate about critical coalitional organizing, Asian American political education, reverb-tinged love songs, and speculative fiction as social justice commentary. You can find his occasional thoughts and random retweets on Twitter @tsengputterman.