I came of age in post 9/11 America like many other people around the United States. On September 11, 2001, I was working as a lawyer in the Civil Rights Division at the U.S. Department of Justice, and living close enough to the Pentagon that the smoke burning from the building was visible from my apartment balcony in Arlington, Virginia for days. It's safe to say that I felt, as so many did around the nation, that everything changed on September 11, 2001.
For me, the months that followed were a call to action. Like others of South Asian, Arab, Muslim and Sikh backgrounds, the post 9/11 climate in the United States motivated me to become deeply involved in addressing bias, profiling and hate violence through a racial and immigrant justice lens. Today, on the 13th anniversary of 9/11, I join many around the country to reflect upon my memories of that day, to think of those who lost loved ones, and to take stock of life in post 9/11 America.
This year, my reflections are also deeply influenced by the experiences of two dear friends, both activists and organizers in post 9/11 America, both directly affected by discriminatory treatment on the streets of New York City over the past two months. You may have read about the experiences of Chaumtoli Huq, a labor and human rights lawyer, who was standing on a street in Times Square while her husband and two children used the restroom inside a Ruby Tuesday restaurant. Within the time it took her family to return, an NYPD cop told Chaumtoli to move because she was "blocking the sidewalk" and then physically restrained and eventually arrested her.  She was held in a jail cell for nine hours before being arraigned on absurd charges of obstructing governmental administration, resisting arrest and disorderly conduct. You can read more about what happened to Chaumtoli Huq here.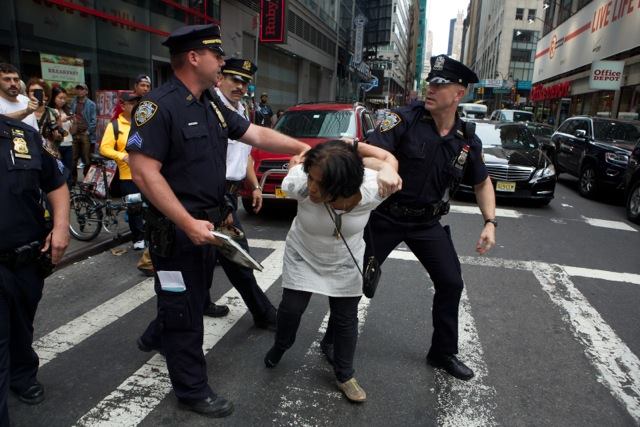 For Linda Sarsour, the director of the Arab American Association of New York, a walk through a Bay Ridge neighborhood turned dangerous when a man shouted racial and religious slurs at her and a colleague, and said that he would cut her head off to "see how your people feel about it."  Read more about what happened to Linda here.
Chaumtoli's and Linda's experiences make it clear that the climate in the country after 9/11 has not changed as much as we all wish that it had. Thirteen years ago, when many of us started to address post 9/11 issues, we described being in "crisis mode", especially given that we lacked strong community infrastructure, alliances with larger and more seasoned organizations, policy expertise, and media know-how.  Over the past 13 years, through the leadership of people like Linda, Chaumtoli and many others, we have developed grassroots and national networks around the country, permeated mainstream media, and generated community-based research and campaigns.
Yet, despite this progress and contrary to popular perception, crisis response remains a mainstay for many organizers, service providers and advocates working with South Asian, Muslim, Arab and Sikh communities even today due to a xenophobic climate, weak public policies, and ongoing harassment and discrimination. While there is a sense that the worst of the backlash ended in the years after 9/11, many community members continue to face detention, profiling and surveillance by state and federal law enforcement, bullying at schools, and hate violence. Just this week, South Asian Americans Leading Together (SAALT) released a report that underscores the heightened level of xenophobia and anti-Muslim sentiment in the realm of political discourse that fosters a climate for hate violence and profiling to occur more routinely. And when events occur on an international scale related to the "War on Terror", they invariably have ramifications in neighborhoods with Arab and Muslim populations here at home.
In light of what happened to Linda and Chaumtoli, we can take many lessons about what must still be done. We must continue to call for systemic change in law enforcement practices and join African American communities in this nationwide call to action, which has become even more urgent in the wake of the murders of Eric Garner and Michael Brown. We must advocate with the Department of Justice to open an investigation into the NYPD's policing practices that target Muslim communities, and to create a federal taskforce to monitor and prevent 9/11 related hate violence. We must continue the work of pushing back against intolerance and racism through inter-faith and multi-racial organizing and solidarity. We must call upon stakeholders and policy-makers to take stands against xenophobia and bigotry in any context, whether on the streets or in the halls of Congress. And we must support organizing and base-building within our communities in order to galvanize power at state and national levels.
Usually, our calls to action end with these recommendations. But, the experiences that Linda and Chaumtoli have endured this summer bring up more for me on this 9/11 anniversary, particularly around the emotional and mental impact on post 9/11 communities and post 9/11 "responders." During a briefing on Capitol Hill this week, Sameera Hafiz, one of the authors of SAALT's new report, poignantly spoke about the struggles that many community members face in post 9/11 America:
What if your place of worship was growing and your religious community wanted to build a new house of worship and your neighbors went to court, a place you associate with seeking justice, to stop you from building your house of worship because they were afraid of you?  What impact would that have?
What if you took your children to a fundraiser for a domestic violence shelter, and you had to walk through an organized protest of your religion?  And the angry protestors were screaming names like "terrorist" at your children?  What impact would that have on you?
What if a popular way to insult the President of our country was to "accuse" him of being the same religion as you?  What impact would that have?
What if you arrived at your house of worship and had to hide because a man was shooting at members of your own community?  What impact would that have?
In fact, we have barely started to scratch the surface of understanding the psychological toll on community members who live, work and go to school in a climate that is rife with scrutiny and suspicion. We have not yet grasped the impact on community members who worry that they might be subjected to violence at a place of worship, or who hear repeatedly that their faith is un-American, or who are concerned for the well-being of their children who might wear a turban or hijab.
And, we have also not begun the process of understanding the extent of the impact on "responders" who work directly with communities affected by post 9/11 backlash – activists, attorneys, organizers, documentarians – and who are often subject to scrutiny and violence themselves. For example, Chaumtoli and Linda, who have long used their voices and roles to amplify the experiences of others who may not have had the privilege, means or platform to speak up, are now in the position of doing the same for themselves. This process includes identifying the perpetrator, filing charges, initiating lawsuits, talking to media, and recounting their stories over and over – and of course, dealing with the trauma of the incidents they endured on their own lives, their identities, their families.
In their book, Trauma Stewardship, Laura van Dernoot Lipsky and Connie Burk provide a framework to understand how people whose purpose in life is to lift up the voices and experiences of others need to also have the resources to sustain themselves:
Many of us who do frontline work to ease trauma and bring about social and environmental change understand that bearing witness, amplifying the story, and taking right action are our most important tasks. But how do we witness, and what is right action? … Somewhere between internalizing an ethic of martyrdom and ignoring ongoing crises lies the balance that we must find in order to sustain our work.
Thirteen years after 9/11, how do we process the effects on those who have witnessed the impact of deportations, hate violence, and racism during the course of their work? How does the fact that first and second responders might be of the same faiths, national origins or immigration backgrounds as those being directly affected further deepen and complicate their reactions and work? How do we validate and acknowledge this impact? What roles can organizations, leadership coaches, and foundations play in supporting those who work on the frontlines? In the non-profit sector, there is often little discussion around responder impact other than to acknowledge that self-care is important. We need field-wide and institutional responses that go further and deeper.
As I look past today's anniversary and ahead to a road that will no doubt continue to be challenging, I draw strength from the tremendous resilience and resistance of South Asian, Arab, Muslim and Sikh communities around the country. This resilience is exemplified in the spirit of chardhi kala (relentless optimism) that permeates the community of Oak Creek which witnessed hate violence. It comes to life in the organizing efforts of young American Muslims in response to the anti-mosque movement in Murfreesboro, Tennessee. And it is given voice by the courage of seasoned activists like Linda and Chaumtoli. Let it inspire us today to deepen our commitment to support one another as we continue our march towards justice.
Deepa Iyer is a writer and activist. She is the Activist-in-Residence at the University of Maryland's Asian American Studies Program and the former director of South Asian Americans Leading Together. Read more from Deepa at www.deepaiyer.me and follow her on Twitter @dviyer.