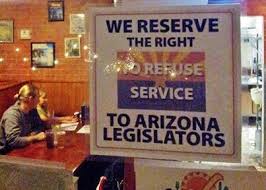 The following was written by Daniel HoSang and originally appeared on the website of the Mackenzie River Gathering Foundation. Please read his entire article here.
When Governor Jan Brewer announced in late February that she had vetoed Arizona's odious SB 1062, activists across the country found good reason to celebrate. The bill would have would have broadened the state's 13-year-old "Religious Freedom Restoration Act," essentially giving businesses and individuals an open license to discriminate — even on the basis of race, gender, religion, or sexual orientation — all in the name of religious liberty. The bill was in many ways connected to a political movement ascendant since the 1970s that has sought to make homophobic discrimination a state-protected practice.
The quick opposition to the bill from many business and tourism interests demonstrated the lasting impact of a boycott organized by immigrant rights activists three years ago after the state passed its notorious "show me your papers" legislation. Even in a state long hostile to civil rights legislation, collective action by many thousands of people to advance human dignity has made an important difference.
To many observers, the idea that anyone could assert a "right to discriminate" in the name of personal freedom seems almost absurd. What kind of freedom is secured by demanding the subordination of others? But it is useful to remember that the linking of freedom and subordination has long-standing roots in the political traditions of this nation, and continues to be bound up in many of our contemporary practices and laws.
The Geneology of the "Right to Discriminate"
Since the nation's founding, the ideals of freedom, individual rights, and democracy evolved in tandem with explanations for slavery and mass death. The nation's founders held that nature had not endowed all people with the same capacity for freedom; subordination for some was the condition that made freedom possible for others.
It was this same idea of freedom that led early white settlers in Oregon to banish or annihilate the indigenous people they encountered and to vote to exclude Black people from the state altogether. Like the nation's founders, these settlers also believed that their freedom was dependent on the subordination of others…
Please visit MRG's website for the complete editorial.