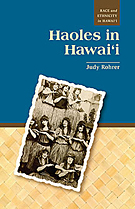 If you're interested in Hawai'i or just interested in critical race studies, you ought not miss Haoles in Hawai'i. I found it to be a fast, accessible read, mercifully short and to the point, unapologetic without being polemical and one-sided, and highly educational.
Literally translated "haoles" are foreigners, but in contemporary Hawai'i, "haoles" include all white people, including those born in the islands. Living as they do in a state of racial limbo, at once the power elite by race in the U.S. (and Hawai'i is most definitely even if reluctantly part of the U.S.) and as both a racial minority group and perpetual foreigners to the islands, white people in Hawai'i have developed a mutant white racial identity from which there is much to learn about race, white privilege, and cultural hegemony in America.
Unlike whites in the continental U.S., haoles in Hawai'i are made acutely aware of their racial and cultural identity, and are often made vulnerable because of it, experiencing bullying in public schools, and disdainful looks and even active hostility in many neighborhoods. Even as parts of the islands have developed into whiteopias where white people's racial identities can go relatively unchallenged, most white people in Hawai'i must grapple with life in a place where whiteness is not centered and by no means the normative standard.
The unique character of this experience is, in my broad reading of literature about Hawai'i, nowhere better captured, distilled and presented than here in this book by Haole University of Hawai'i professor Judy Rohrer. If you're interested in white identity politics, I think you'll find this book useful. It speaks directly to some of the challenges that may lie ahead as the browning of U.S. racial demographics causes white anxiety to rise, and the culture to shift in a more and more "Hawaiian" direction.