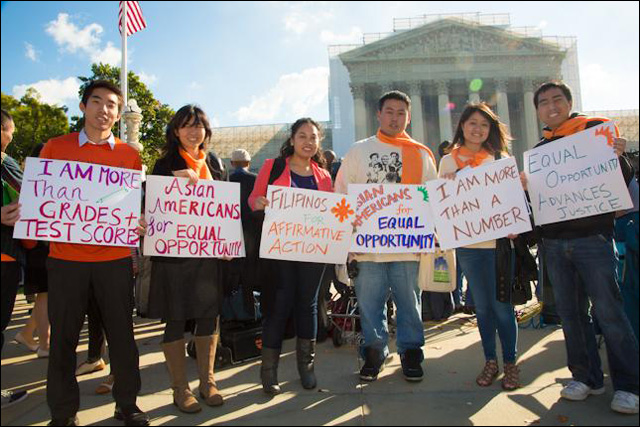 In an April 15 Los Angeles Times editorial entitled "An Asian American Turn to the Right?" Lanhee J. Chen, the former policy director of Mitt Romney's failed 2012 presidential campaign and Hoover Institution Research Fellow, claims that Asian Americans played a critical role in defeating SCA5, a proposal to allow race to be considered among many other factors in college admissions in California.
SCA5 was proposed in order to remedy the precipitous drop in minority college admissions following the passage of Proposition 209, a 1996 ballot measure that banned affirmative action in California. The defeat of SCA5 is widely credited to the organizing efforts of the 80/20 National Asian American Political Action Committee that mobilized a conservative minority among California's Asian Americans to blitz key elected leaders with phone calls and mail in opposition.
Chen suggests that Asian American involvement in the defeat of SCA5 could have repercussions for partisan politics on both sides of the Republican-Democratic divide. Here's Chen in his own words:
Democrats have made it clear that they want to reinstate racial preferences in admissions, while Asian Americans do not, as illustrated in their efforts to defeat SCA5. Given the percentage of freshmen admitted to all University of California campuses who were Asian American increased between 1996 and 2013, Democrats do not appear to be accounting for the Asian American community's interests.
But what Chen is suggesting is more along the lines of wishful thinking than reality-based political forecasting. Moreover, it reflects a bluntly simplistic racial worldview popular among conservatives that may help to explain why massive majorities of African Americans and Latinos joined the 73 percent of Asian American voters in supporting Barack Obama over Chen's candidate, Romney, in 2012. In that worldview, Asians are a monolith, and the actions of any of us is indicative of the characters of all of us.
As an antidote, consider the following:
Asian America is composed of 43 ethnic groups speaking over one-hundred language dialects. Moreover, Asian Americans trace our roots to a geographically, religiously, politically, and culturally diverse region of the world. That diversity is reflected in the fact that most of us choose to identify by ethnicity rather than as "Asian." And there's a reason for this. Diverse Asian ethnic groups in the U.S. experience America very differently.
For instance, one's experience of America is quite different if you're a Cambodian American, born in a refugee camp in the 1980s, your parents' migration from their homeland a legacy of war, as opposed to a Japanese American whose great grandparents first migrated in 1900 to Hawaii (where Asians would soon become a majority) for agricultural work. One story begins in a refugee camp and the other in a plantation camp, separated by hundreds of miles and three generations. It isn't just language and culture that make us distinct, it is also our citizenship status and the stories of why we came to the U.S. and how we entered. Is our understanding of an event as significant in U.S. history as the Vietnam War written in napalm, or translated for us by Life Magazine? Even if we share a language, our words may have very different meanings.
The group that opposed SCA5 is not reflective of this diversity. In fact, they were mainly Chinese, and very likely only a small minority of Chinese when it comes to their political leanings.
According to Chinese for Affirmative Action (CAA), a forty-five year old California-based civil rights group, affirmative action has been critical to the advancement of opportunities in education for Chinese Americans. For instance, the group's website states,
In the 1970s, we fought for and won the rights of thousands of Chinese-speaking students in public schools in Lau v. Nichols…CAA has also defeated efforts by the California State University to deny access to predominantly immigrant students who have needed English assistance. And we have prevailed over the special interests who sought to stop the Chinatown campus of City College of San Francisco that now serves 8,000 immigrant and working class students…Without affirmative action, we could not have made these and other gains…
The historical role of affirmative action in advancing Asian Americans interests may help explain why 60 percent of Asian Americans in California voted against Proposition 209 in 1996. It might also help to explain why the National Asian American Survey found that 72 percent of Asian Americans surveyed nationally and 80 percent of Asian Americans in California supported affirmative action in 2012.
And in so far as Mr. Chen's partisan aspirations are concerned, a 2009 Gallup Poll found that 61 percent of Asian American voters lean Democratic, exceeding the national average, and 31 percent of Asian Americans identified as liberals (compared with 21 percent of the general public). But Mr. Chen doesn't just ignore data contrary to his opinion. He also ignores some hard Asian American realities. Chief among them, that the high aggregate level of education among Asian Americans isn't evenly distributed.
California is home to nearly one million Cambodian, Laotian, and Vietnamese Americans. Of these groups, the Southeast Asian Resource Action Center says,
Prop 209 has maintained or worsened access to higher education. In California, only 15.5 percent of Cambodians, 14.5 percent of Hmong, and 9.6 percent of Laotians have a college degree or higher, compared with 48 percent of Asian American communities in aggregate and 31.3 percent of White communities.
To lump in the political interests vis a vis affirmative action of these less advantaged Asian Americans with conservative groups like 80/20 only worsens their educational disadvantages, while also promoting the dehumanizing and intellectually dishonest notion that all Asians are alike. We aren't, and a growing majority among us would like conservatives to get over their wishful thinking and come to grips with this fact.