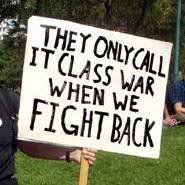 One of the perennial debates among liberals is the one over which is the more powerful organizer of social and economic inequity – race or class. To those who believe that class is fundamental, racism may be important as a moral issue, but is only strategically significant because it gets in the way of working class unity across race.
Those folks, well-intentioned though they may be, are wrong. They're wrong because they've bought into an interpretation of history that overlooks the structural dimensions of racism, and the roots of American capitalism in slavery and native genocide. Here's what I mean.
The first Europeans to colonize what would become the U.S. didn't leave Europe simply to escape religious persecution. They left in order to escape wage labor. And while not all of the early Europeans were landowners, the slave trade provided the necessary capital, and the uncompensated labor of slaves provided the profit margin, to buoy the colonial economy, putting white wage earners in North America among the highest paid wage earners in the world by the beginning of the 18th century.
With these wages, whites bought land and became their own bosses. This was the lure of America to early European immigrants.  Here, whiteness was a golden ticket to independence. Only after the end of the Civil War did a white working class start to emerge in the U.S. And while those white workers were often terribly exploited, most enjoyed a white wage that was higher than the wages of free Blacks and Asian coolies and subsequent generations of low wage workers of color.
American corporations have always relied upon highly exploited non-white labor, either here in the U.S. or abroad. One only need consider what happened to apple growers when immigration crack downs drove Latino migrant workers out of the orchards. What should have been a boom year ended up a bust, with fruit rotting on the trees and no amount of recruitment producing lines of white workers to take the place of Latino immigrants even in the midst of an economic crisis.
The great American middle class was built upon the exploitation of people of color. While many harken back to the immediate post-WWII years as a time of economic growth and prosperity, people of color were almost entirely excluded from the opportunities afforded to white Americans during those years. Much of the prosperity of post-war America was financed through the super-exploitation of workers of color whose low wages depressed the costs of basic goods and services.
In order to address oppression by class, we have no choice but to deal with how we are classed by race.
But the success with which politicians and business leaders are able to exploit white nostalgia for those "good old days"when racist codes protected white privilege, even among whites who abhor racism, speaks to just how deeply engrained racism is in our culture. Everything from the dream of American social mobility to the American obsession with home ownership, our suspicion of "big" government, and our endless fight with ourselves over who is deserving and not deserving of social safety net programs is rooted in racism. In order to make change, you have to change the way we are organized socially, and you need to change culture. In the U.S., our culture and our social relations are color coded.
That's why for me, the argument is a no-brainer. Race informs my understanding of class, and not the other way around.